摘要內文:
美國最大的城市紐約市的居無定所者在2014年10月已經超過56000人,目前在日本最大城市東京的居無定所者是1697人。(東京的總人口數是13.4萬人,而紐約總人口數是8.4萬人。)
為什麼這兩個城市有這麼大的差異?
其中,日本超越美國的關鍵的因素是提供社會安全網絡。日本提供居無定所者臨時居住措施,就業培訓,甚至因為年老的居無定所者,多半有健康問題,所以協助申請社會福利…
當然日本較能獲得家庭支持,而美國比較是個人主義,且比起日本,美國具備更多文化及種族的多樣性。雖然兩個國家有這些差異,但確實在居無定所者的數字上出現明顯的差距。
------------------------------------------------------------------------------------------------------------------
Homelessness In The World's Largest City Just Hit A Record Low
BY SCOTT KEYES POSTED ON OCTOBER 27, 2014 AT 10:13 AM UPDATED: OCTOBER 27, 2014 AT 3:34 PM
新聞連結:http://thinkprogress.org/economy/2014/10/27/3583324/tokyo-homeless/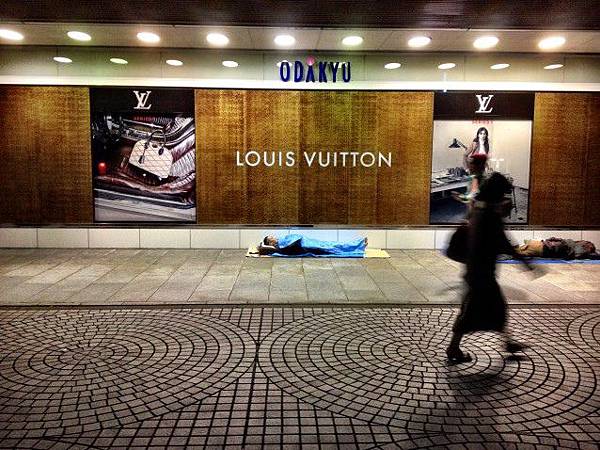 CREDIT: SCOTT KEYES
The number of homeless residents in New York City, the largest city in the United States, reached a record high this month at more than 56,000 people. Halfway around the world, another metropolis recently hit a homeless record of its own: just 1,697 peopleare currently homeless in Tokyo, also its country's largest city and the most populated city in the world, a record low since surveys began in 2002.

CREDIT: DYLAN PETROHILOS/SHUTTER STOCK
What's even more surprising than the discrepancy in homeless populations between the two cities is the fact that Tokyo, at 13.4 million people, is larger than New York City (8.4 million people) and Los Angeles (3.9 million people) combined. While the rate of homelessness in New York is currently 67 for every 10,000 people, in Tokyo there is just one homeless individual for every 10,000 city residents.
Why the massive discrepancy in rates of homelessness between two of the most populous cities in the world?
As with most socioeconomic phenomena, there are a number of contributing factors. First and foremost, income inequality is a massive and growing problem in the United States, while Japan has historically had one of the lowest rates of inequality among developed countries. One principal measure of income inequality is the GINI coefficient, a measure from 0.0 (perfect equality) to 1.0 (perfect inequality). Recent surveys in the two countries found a GINI coefficient in Japan of 0.32, while in the US that rate was 0.41. However, income inequality can't be the only explanation for Japan's success combatting homelessness, especially considering that the country's inequality index has actually worsened over the past few decades.
Where Japan is really surpassing the United States, instead, is in the social safety net it offers its citizens.
It begins with the Japanese Constitution, which unlike the U.S. version guarantees its citizens "the right to maintain the minimum standards of wholesome and cultured living." As such, the country has a far more robust safety net than the United States.
Tokyo itself has been taking extra steps to fight homelessness. For instance, Hiroki Motoda, a government official in the city, pointed to the city's temporary housing provision and employment training in an interview with the Wall Street Journal. He also said that the homeless population in Tokyo has been decreasing as it got older because, "Older homeless people tend to have health issues, and so they apply for social welfare. They stop living on the streets."
Finally, another contributing factor is that Japanese tend to have a stronger support system from their families than in the United States, where individualism is prized. Though it is a difficult to quantify, the tradition of Japanese families remaining tight knit and supportive of each member is undeniable.
Of course, Japan is not superior to the United States in every aspect of homelessness, nor it is a perfectly fair comparison. There is far more cultural and racial diversity in the United States than in Japan, for instance. While homeless people in the United States face some barriers to voting, like obtaining photo identification in states that require it, the barriers are significantly steeper in Japan, where shelters and temporary accommodations cannot be used as an official place of residence when registering to vote. However, this does not change the fact that on a given night, more than 600,000 people are homeless in the United States; in Japan, that number is just 7,500.
Tags:
Homelessness Inequality Japan Poverty
相關文章: